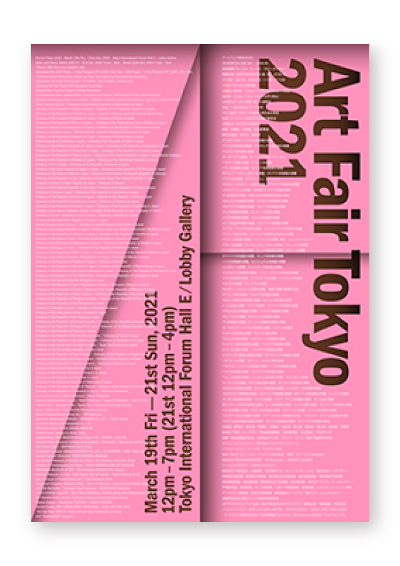 by Art
As society changes, so too does the role of art. But it always remains at the forefront.
In Japan, however, art is often regarded merely as a "hobby" or "entertainment."
Each year, Art Fair Tokyo has presented a theme to promote the idea that art is integral to our lives.

2016 Art is a Lifestyle
2017 Art is ALIVE
2018 Art is Life
2019 Art Life
2020 with Art

For 2021, at a time when many activities are heavily restricted due to the COVID-19 pandemic, the theme of the fair is "by Art."
Art is always part of each of our lives. As such, the fair strives to bring lifestyle, culture, and art closer together.

Venue & Tickets
Tokyo International Forum
Hall E / Lobby Gallery
3-5-1 Marunouchi
Chiyoda-ku,Tokyo-to 100-0005
Japan
Ticket JPY 4,000 (Incl. Tax)
*Children below elementary school are free
(They must be accompanied by adults)
*Prior reservation is required online
Opening Dates
Press View
March 18th Thu 2021 1pm - 2pm
Private View
March 18th Thu 2021 2pm - 4pm
Vernissage
March 18th Thu 2021 4pm - 8pm
*March 18th Thu is by invitation only
Public View
March 19th Fri 2021 12pm - 7pm
March 20th Sat 2021 12pm - 7pm
March 21st Sun 2021 12pm - 4pm
*subject to change