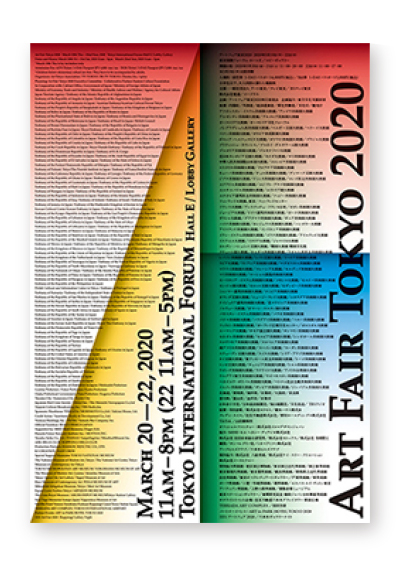 with Art
AFT2016 Art is a Lifestyle
AFT2017 Art is ALIVE
AFT2018 Art is Life
AFT2019 Art Life

Art Fair Tokyo has continued to showcase the appeal of a close intersection of art and lifestyle. Art has the power to move and inspire the viewer to explore his or her identity, serving as a medium of communication and bringing together people from across different walks of life.

The theme for Art Fair Tokyo 2020 is "with Art."

Through art, people can transcend differences of nationalism, race, gender, occuption, and status, gaining greater understanding of one another and sharing new values. An artwork that moves an individual is passed on across the generations, its value never lost.

Viewing art. Buying art. Living with art.

As a platform for expanding the art market, Art Fair Tokyo fuses together diverse values and creates and cultivates a sustainable cycle of art.
Venue & Tickets
Tokyo International Forum
Hall E / Lobby Gallery
3-5-1 Marunouchi
Chiyoda-ku,Tokyo-to 100-0005
Japan
1-Day Passport
ADV-Ticket JPY 4,000 / DOS-Ticket JPY 5,000
(Incl. Tax)
Opening Dates
Press View
March 19th Thu 2020 13:00 - 14:00
Private View
March 19th Thu 2020 14:00 - 16:00
Vernissage
March 19th Thu 2020 16:00 - 20:00
*March 19th Thu is a preview for invited guests only.
Public View
March 20th Fri 2020 11:00 - 20:00
March 21st Sat 2020 11:00 - 20:00
March 22nd Sun 2020 11:00 - 17:00
*Hours are subject to change